Sailing Class Info

___________
!!!!!!!!!!!!!!!
Participation
Guidelines
!!!!!!!!!!!!!!!
Do
Bring:

Payment Check,
Sailing Gloves,
Non-black
Non-Skid Shoes,
Warm up Suit,
Hat/Glasses Tether

Rain gear!!!
... and a Zipper bag
for all of the above!
Sun lotion applied 1 hr in advance.
___________
Don't
Bring:

Unpaid Guests

Beverages or
Alcohol

Jeans With
Riveted
Pockets

Open Toe Sandals
Black Sole Shoes
Dresses
Windsong Sailing Academy
770-931-9151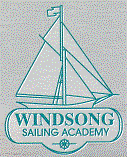 Outings are now on our Education Calendar


Sailing Outings

For your convenience and safety review our "Guidelines For Participation".
Your registration and participation in our programs implies your knowledge of and agreement with these terms.
Our sailing outings are extremely popular and
you may experience difficulty booking last minute outings.
Our bookings change daily, but the following is a list of present openings for the coming month to aid you in your planning. We strongly suggest that you book 3-6 months in advance to ensure continuity in your training as many of our Sailing Classes fill up months in advance, particularly during the Fall and Spring seasons.
We have recently expanded our fleet to meet demand which resulted in additional availability, however outings will once again become difficult to reserve without proper planning well in advance. We apologize for the inconvenience of past long waiting lists for our outings but there is a reason our programs are so popular. They are unequaled in cost or quality and we encounter repeat business season after season. We can't stress enough the importance of booking your season's outings months in advance.
Weekday and Week Evening Special/Private Outings are NOW available.
PRIVATE PARTY bookings are available upon request.
To reserve outings, contact our business office via email or phone.

So that we may prepare the vessels between Sailing Classes,
boarding will not be permitted until the appointed Sailing Class time.
(11:00 means 11:00, not 11:10 or 10:50!)
For your convenience if you arrive too early to board,
there is a dockside grill for refreshments within both marinas
but don't be late for your appointed boarding time!
!!!!!!!!!!!!!!!!! NEW !!!!!!!!!!!!!!!!!
JUMPSEATS
are now available!
Outings aboard Jamaica Lieu offer JumpSeats to anyone accompanying a full paying student during an "Instructional Outing" and are FREE for the first trip and only HALF PRICE there after. A JumpSeat is a stern rail seat for an accompanying guest to ride aboard Jamaica Lieu during an "Instructional Outing", but not participate in crew positions or rotations. This is ideal for friends, spouses, children (over 12) or others who'd enjoy spending the time on the lake accompanying a student. Only applicable to "Instructional Outings".
"Team Windsong"
T-Shirts are in!
Reserve yours TODAY!
Windsong Hat's

are

in too!
Outing Participation Guidelines .
DON'T WEAR:

DO BRING

Open Toe Sandals, Black Sole or Dirty Shoes, or Jeans with Riveted Pockets.
DON'T APPLY:
Sunscreen aboard our boats.
This is best done 1-hr prior to your outing.
DON'T BRING:
Beverages of any kind.
Water will be available onboard.

Checks made out in Advance,
Non-Skid Shoes,
Rain Gear,
Sailing Gloves,
Visored Hat,
Zippered Sailing Bag,
Warm-up suit (just in case),
Tethers For Hats/Glasses
If You Do Not Show Up,
You Are Still Responsible

For The Cost Of Your Reservation.
To Avoid Payment, You Must Cancel Prior To Noon On TUESDAY!

We Sail In All Weather Conditions, As These Are Realistic Training Conditions
Be Aware Of I-85/I-985 Resurfacing Construction that may cause DELAYS
DOT Traffic Web Site
Types of Sailing Outings
For details see Sailing Class Descriptions

Note that outings are now available on Lake Lanier & Lake Alatoona

Fun Sail:

2-hr non instructional outing for those who already know how to sail and merely wish to go sailing. Several Themed Fun outings have been added this season as well.

Sunset:

3-hr non instructional 'Social' outing with refreshments while enjoying the sunset. Great chance to bring along that special someone!

CON-c:

3-hr Lanier on-the-water navigation & plotting drills
Don't Get Caught again without outings!
Each season we run out of outings right after the boat show.
Book now and avoid the rush that occurs every spring.
If you don't see a date and time that you want, request to be placed
on the "Waiting List" for that date/time. We have several cancellations
each week & you will be notified when an opening occurs.

If you must


cancel

your

reservation,




do so prior to
noon on Tuesday

and
there is no cost or

obligation.

If you cancel
after noon on
Tuesday or do not attend
your reserved outing,

You are

responsible

for the cost of your outing

.


___________

If an opening is not available for

the date or time you desire,

request to be

placed on the

waiting list in the event there are any cancellations.


___________

Please make

your checks

out in advance

payable to

'Windsong' so

that your

departure is not delayed by

paperwork.




___________

If you need a romantic venue to "pop the question" or already have and want to fuel the romance in your relationship, we have the sunset view for you!
___________