Windsong Sailing Academy
770-931-9151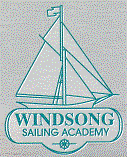 Using your client email software address your email to us at:

Tell us what you think about our web site, our products, our organization, or anything else that comes to mind. We welcome all of your comments and suggestions and appreciate the opportunity to earn your business!
Thank you for your opinions.
Dave Crumbley
President, CEO
Windsong Sailing Academy, Inc


Being the largest isn't our goal, but being the best is!
_________
With your feedback, we'll continue to meet your needs.
_________